You are here: Home Page > Calendar Internet Home
Calendar Internet software and hosting service has been retired.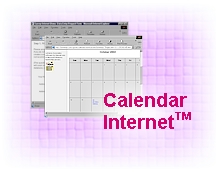 After many years of providing this online calendar application for business, we thank all our former Calendar Internet clients.
Calendar Internet by Aufrance Associates holds the distinction of having been the world's first Internet calendar application. Worldwide, you will still find links to this software application and hosting service as the "Institutional calendar for Internet or Intranets." further stating that websites could "License Calendar Internet to run on your organization's server or have Aufrance Associates host your calendar." Here's a bit of Internet history: the original product announcement for Calendar Internet.