You are here: Home Page > About Us > Tom Aufrance
Meet Tom Aufrance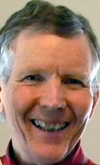 Tom Aufrance's stellar career includes software development for the Voyager Space Mission and several other "firsts." He recently worked as Senior Software Engineer, GE Energy Measurement and Control Systems, where he developed software for industrial equipment protection. Although Tom is now looking for new opportunities, as a founder of Aufrance Associates he was among the first to develop business applications for the Internet. Tom has many firsts to his credit, as the developer of Aufrance Associates' suite of software applications that "make business work" on the Internet. Read more about Tom's firsts on the Internet - click here...
Tom Aufrance - Scientific and Software Engineering Background
Before starting Aufrance Associates, Tom had already become a creative force in computers, since 1976, when he started his career by writing the software that controlled the telescopes at Kitt Peak National Observatory. Then, he went on to write the code that analyzed data coming back from the cosmic ray experiment on the Voyager Space Mission. Tom was also part of the High Energy Astrophysical Observatory project while at Caltech. He also programmed embedded and secure systems for ocean physics at the University of Washington Applied Physics Laboratory, including In-Situ Heat Transfer Experiment (nuclear waste on the ocean bottom), sonar and acoustic research projects and and other data analysis and data acquisition projects. Also on his list of development accomplishments are projects for Kramer, Chin and Mayo engineering firm in Seattle, plus energy conservation projects at Fort Lewis Army Base, Tacoma, WA for Tacoma Public Utilities and Pacific Gas and Electric Co. in California.
In 1992, Tom turned his talents toward business applications when he went into business with his wife Mary Kay, and the two started off by developing large scale database and analysis systems, before getting into the development of Software for Internet.
In 2013, Tom turned his attention toward the engineering side of software development again, as Senior Software Engineer at GE Energy Measurement and Control Systems - Bently Nevada Asset Condition Monitoring.

Credentials



Tom Aufrance Microsoft Certifications
Microsoft Windows
Networking with Microsoft Windows
Windows NT
Windows NT Advanced Server
Microsoft SQL Server: Database Implementation
Education and Professional Credentials...

Graduate Study in Computer Science at University of Arizona and University of Washington.
B.S. Physics and Astronomy "Magna Cum Laude" Mount Union College, Alliance, Ohio. Extensive coursework in Computer Science with Senior Project in Solar Energy. Winner of the Lubrizol Physics Award.
National Merit Scholarship Winner
Voyager Space Mission software engineer for the Cosmic Ray Sciences experiment on the Voyager 1 and Voyager 2.
NASA High Energy Astronomical Observatory software engineer at California Institute of Technology
In-Situ Heat Transfer Experiment (ISHTE) of Subseabed Nuclear Waste Disposal Experiment mathemetician and software engineer at University of Washington Applied Physics Laboratory.
General Electric Co. Bentley Nevada Senior Software Engineer until 2014.
Featured in the book NetSuccess: How Real Estate Agents Use the Internet ISBN: 1-56592-213-1 Published by O'Reilly & Associates 1996
Publications: No-Fuss Transporting: The Aufrance Associates Screen and Report Conversion Kit makes it easy to move screens and reports between Windows and Macintosh. FoxPro Advisor, September 1996, with M.K. Aufrance