You are here: Home Page > OrderIT! Home > Details
Details About OrderIT!
Get the Most out of Your Full-Featured Web Store

Customer Order Confirmation via EMail



You Receive Orders via Email or Logon



Never lose an order! Orders are saved in your database



Dynamic Web Pages are created from your database



Encrypt Credit Card Information



Maintain Your Inventory using Microsoft Access



Download Your Orders



Change your site without programming



Works with Secure Server (SSL Secure Sockets Layer)

Details: Setting Up Your OrderIT! Web Store
It's Easy as 1-2-3
To setup your Web store, you just download OrderIT! Desktop on your own PC. You will find an easy-to-use menu that takes you through the process of setting up your site, inventory, prices and other important information like tax rates.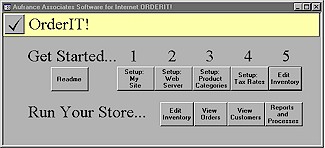 Enter Your Products. Setup Product Categories. Setup Your Company Profile and Tax Rates. Voila! You are now ready to go online!
Power Users: You may edit your OrderIT! Web page templates and create other Web pages. However, it's not required. We can take care of editing your OrderIT! templates for your store for you. You don't need any special skills at all.
Just add your own logo and company information, and online you go!
Publish your site...
To publish your OrderIT! Web store on the Web or make changes, you just upload your database or templates. The OrderIT! on our cloud server will take care of the rest for you!
Take Orders!
You will receive orders two ways. Via Email, both you and your customer receive a copy of the order. Plus, your order information is stored in your database. You can download your database at any time, to view and maintain customer and inventory information.
When an order is placed...
When a customer places an online order, all order information is stored in your OrderIT! databse, and you and your customer automatically receive email confirmations. Your email confirmations include all order details, as shown below. (The format of your confirmation is customizable. You can add text or decide what order information you want to include on your confirmations.)
Complete Order Processing on Your Desktop! Download Your OrderIT! Database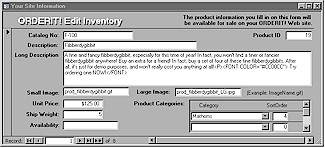 When you want to make changes to your product line, just change your Web store using OrderIT! Desktop.

There is no need to stay connected to the Internet to change your product information. Just download your OrderIT! database, make your changes at your leisure, and then upload your database to get your Web store up-to-date!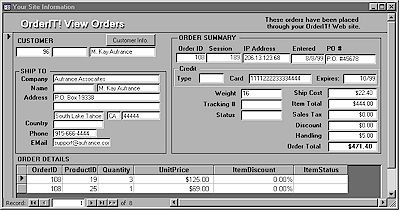 Your View Orders screen provides complete information for every order placed. You and your customers also receive immediate notification of all orders via email.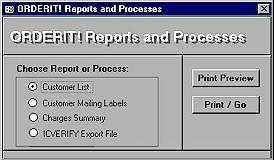 Useful Reports and Business Functions
Essential reports that come with OrderIT! include Customer List, Mailing Labels, Charges Detail, Charges Summary, Invoices and Export file for credit card batches.

Looking for your own OrderIT! online shopping site? Just contact us!