You are here: Home Page > Real Estate Websites > View Sites
Visit Real Estate Sites by Aufrance Associates
More Real Estate Internet™ Sites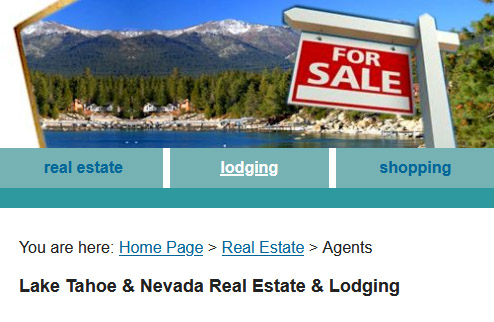 View more websites that use Aufrance Associates Real Estate Internet™ Web Hosting Service to market real estate and lodging at Lake Tahoe, Reno and Northern Nevada.
Visit TahoeHighSierra's list of sites


Reviews & Testimonials

"I would not still be in business if if were not for Aufrance Associates. This Internet Thing is hot! I love my web site and I love you. We sell at least one high-end property each month due to leads from your service! I just closed a million dollar deal last month."
Carol Elder, South Lake Tahoe, CA


"Most of my new business comes to me as a result of my web site. The leads I get are the highest quality. Thank you Aufrance Associates!"
Pat Colon, Nevada


"My business has grown substantially from my website. I meet between 5 and 10 new Buyer prospects each week as a result of my web efforts. I couldn't imagine doing business without it!"
Bret Churchman, California


"This database ROCKS!"
Andrew Gray, North Carolina
Real Estate Internet™ worldwide
customers also include...
Al Samuels, Charlottsville, VA - Net2001.com Financial Software - Consultants, Staten Island, NY - Top Producing Agents Network - Softshoppe.com, Fowler, CO - Preferred Title, Bolivar, MO - Prizmanet A.S., Istanbul, Turkey - iCity Pte Ltd, Singapore - American Turbine - Consultas SA, Byrne, Switzerland - Tucson Real Estate by Catalina Systems - Las Vegas Real Estate - Jasper Alabama - County-Wide MLS - Virginia MLS - Cumberland Valley - Georgianbay.com - Oklahoma Real Estate by Jean Harris - Shenandoah Valley - Telmarcorp, Milton Freewater, Oregon - DR Techno, Gurnee, IL - Zephyrnet Inc. Zephyrillis, FL - Bit Shop, College Park, MD - Sitevision, Roanoke, VA - Specialized Data Systems - Illinois Realty Finder - Mitec Corp, Bannockburne, IL - Openway.net, Miami, FL - OnlineRealtors, Keezletown - Anil Vij, Jamaica, NY - Philippine Real Estate Systems - Wormholegroup, Indianapolis - Overlooked Options, Chicago - Cumberland Valley Network - Mike Melhado, Melbourne, FL - and more!