Blog & Newsletter
---
Enjoy our Music on SOUNDCLOUD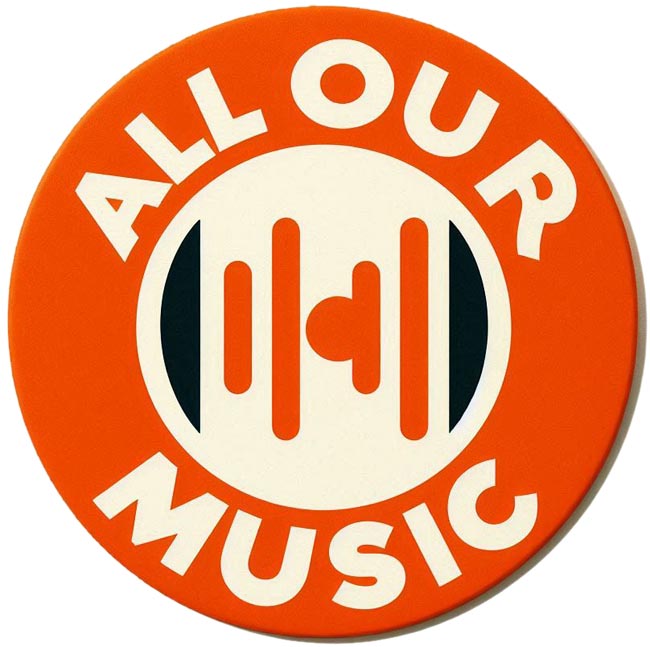 ---
Summer is for cavorting, and we sure did!
Can't see or hear it? Click here...
Here we are with Granny Fox and the Farm Hands Band at the Bark River festival. Summer is for cavorting, and Tom and Mary Kay sure did some when performing at the Bark River festival. If you like the video, please click on it and subscribe to our YouTube channel for more like this.
---
Falling Rock Cafe Music: We're Back At It!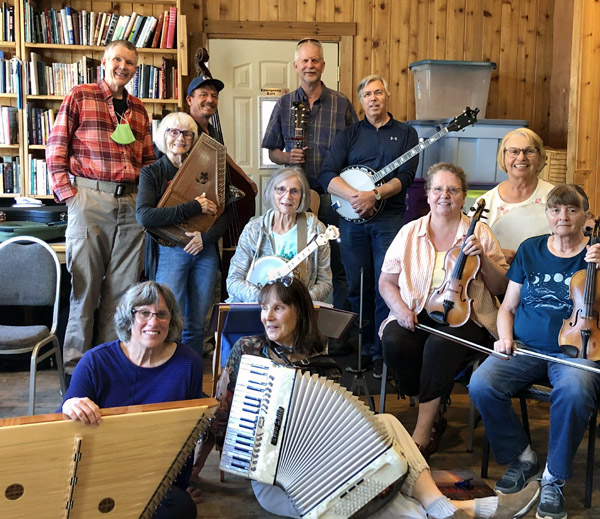 Celebrate! Jump for joy! We are making music with these friends at Falling Rock Cafe! Here we are with our music making pals. And you are welcome to join in the fun! Bring your folk instrument, dancing shoes or appetite! Wednesday nights from 6-8 all summer long!
---
Celtic Music Sessions with Fellow Musicians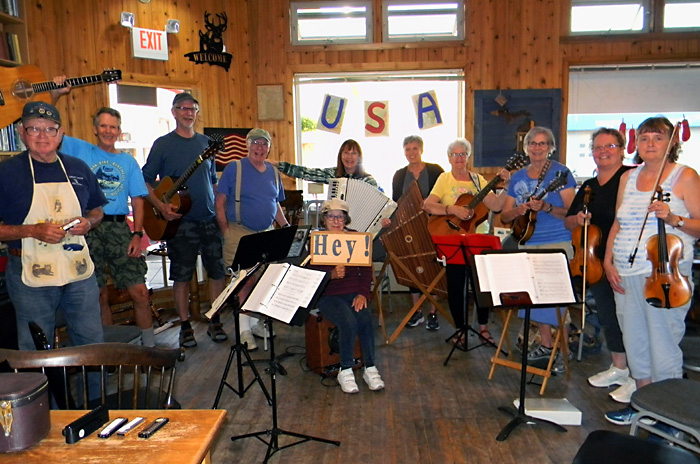 Hey! Here we are enjoying the music session at Falling Rock Cafe in Munising. It's a regularly scheduled event, so check out Falling Rock Cafe our next gig there.
---
Hap asked for The Little Drummer Boy. So, here goes! Merry Christmas!
Can't see or hear it? Click here...
Thanks for asking us to perform the most popular Christmas song of all time, Hap! Enjoy our Christmas party at our house, where we're singing a duet of The Little Drummer Boy especially for you! If you like the video, please click on it and subscribe to our YouTube channel for more like this.
---
Beethooven 360 is the world's first immersive digital performance of Beethoven's 9th. And we're in it!
Can't see or hear it? Click here...
With the COVID thing raging, we set out to find virtual choirs. What a super wonderful opportunity it was to add our voices and accordion to the Beethooven Ode to Joy choir from the Phillipines! We joined virtually with singers and musicians from all over the world. Enjoy and sing along!
---
We sang with 17,570 other singers from 129 countries!
Can't see or hear it? Click here...
Now that's BIG! Eric Whitacre's virtual choirs are legendary and his composition Sing Gently was an epiphany to sing in! It's a joy to have our voices and our faces among the vast universe of fellow choral singers who contributed our talents to Sing Gently.
---
Throw on a kilt and dance to Atholl Highlanders
Can't see or hear it? Click here...
What a treat to be joined by musician friends and piper extraordinare Pierre Ogea to perform Atholl Highlanders together! For more like this, click on the video to go to our YouTube channel and subscribe.
---
Waltz of the Little Girls
Can't see or hear it? Click here...
Playing this lovely traditional French waltz with friends. We recorded Waltz of the Little Girls with musicians who we have performed with all over the Midwestern United States. Enjoy the music of Bill Frank guitar, Janeen Chebli hamered dulcimer, Carol Irving penny whistle, Mike Madigan bodhran, and Tom and Mary Kay Aufrance accordion and mandolin. (The video was uploaded on
5/3/2020
. Duration
1 minute and 50 seconds
.)
https://www.youtube.com/embed/CFSRN6bjkxU
---
Sonny Brogan's Mazurka Virtual Session
Can't see or hear it? Click here...
---
Scots Wa Hey With Us!
Can't see or hear it? Click here...
Performing the Tarbolton Scottish Reel in our first virtual session, here we are with friends we've always enjoyed making music with. Enjoy the music of Carol Kasmer Irving whistle, Bruce Irving guitar, Mike Madigan bodhran, Bob Arthur fiddle, Tom Aufrance guitar and Mary Kay Aufrance accordion.
---
Sacramento and Reno Contra Dances
We'll be playing as the Local Honey Band for the Sacramento Contra Dance!
So, dance up a storm with us at Coloma Community Center.
Then it's off to Reno Contra Dance on June 23rd! Join the fun! Contra dancing is energetic and a way cool way to meet people!
Sacramento Dancers: A free newcomer's orientation is at 7:30, great for people new to contra dancing, or with some experience, or rusty with their dance moves. Experienced dancers are welcome to come help the newcomers learn. The dance is 8:00PM to 11:00PM, and costs $10 adults, $8 college students with ID, $5 high school students with ID, $25 maximum for families. There is a potluck snack at break, so please bring something to share. The dances get progressively more complicated as the evening goes on, so coming early will get you the experience and skills before the later dances. Coloma Community Center is at 4623 T Street in Sacramento.
---
Sure was fun leading Tuneville music sessions
for Brewery Arts Center
Musicians, thanks for playing with us!
Tom and Mary Kay lead Tuneville musicians on the BAC Patio
Thanks to Dana Freund for the great photos of Tuneville Sessions! You may notice that several iconic luminaries of traditional, Celtic and classical music appear in these photos of Tuneville!
---
What a big crowd dancing! Sacramento Contra Dance featuring Local Honey Band Tom and Mary Kay Aufrance and Bob Kastelic with Caller Lynn Ackerson
Here's Local Honey Band: fiddler Bob Kastelic, Tom Aufrance on mandolin and guitar, and Mary Kay Aufrance on her super electronic accordion! We always throw in a little duet singing for the waltz! The Caller is Lynn Ackerson.
---
For those wondering about our other local honey adventures...
The bees have been busy all summer, making honey. The hive is bountiful and Minnie has been experimenting with a queen breeding! Early in the spring, when it looked as if the hive might be in need of a new queen, Minnie tried an experiment in queen rearing!
First she put some of the frames with brood (that's beekeeper talk for larva and soon to be baby bees) in a separate little box of their own, with attending bees in the box to nurture the baby bees. After a few weeks, "queen cups" started popping up in the wax, where the bees were preparing little bee beds for new queens! The bees built about 10 queen cups and of course, little pre-queen bees emerged.
Beekeeper lore says that what happened at this point would be that the pre-queens engage in diplomacy and deceit until just one queen emerges victoriously. So, after the bees seemed content with their new order, Minnie put them all back into the big hive where all the bees have been happily-ever-after making honey - and more honey bees, too!>
Minnie's reflections on her queen rearing adventure? "Luckily the bees know what to do!"
She saved a collection of queen cups and it's sitting on her computer monitor. The variation in color and construction is interesting...
Find out more about beekeeping...
---
Irish History and Humor for St. Patrick's Day
---
Everybody loves Irish jokes! So here goes with a wee bit o' Irish history and humor in honor of St. Patrick's Day, brought to you by yours truly of Gairin Celtic Musicians, Tom and Mary Kay Aufrance.
When did St. Patrick live?
There is a popular notion that St. Patrick, the Apostle of Ireland, was born sometime in the 4th or 5th Century at Kilpatrick, near Dumbarton. But now! Think about that! The village of Kilpatrick is on the River Clyde, which is in Scotland! If this is his true birthplace, then Ireland's patron saint would actually be Scottish! Begorrah!
We all know that as a teenager, St. Patrick was kidnapped by Irish raiders, taken back to Ireland and enslaved as a shepherd, and that he walked 200 miles until he got to a port and could get on a boat to escape. But then later he saw a vision, became a Catholic priest and went back to Ireland and the rest is history.
St. Patrick's Day is a great time for tellin' tales. Here's a totally plausible story.
An Englishman, an Irishman, a Scotsman, and a Welshman were all flying together in an airliner. The captain announced that they were losing altitude rapidly and that one of them would have to jump out to save the others.
"I do this for the glory of Scotland," said the Scotsman - and he jumped out!
"We need to lose more weight," exclaimed the captain; so, the Welshman shouted, "I do this for the glory of Wales," and then the Welshman jumped out.
"Sorry," said the captain. "I'm afraid we need to lose the weight of just one more person."
"I do this for the glory of Ireland," said the Irishman.
And then he threw out the Englishman.
St. Patrick's day is celebrated on March 17th, the day believed to be his death.
Why would everybody worldwide celebrate St. Patrick's death instead of celebrating his birthday?
According to the Nevada Sons and Daughters of Erin St. Patrick's Day program, St. Patrick's dying wish was for people to cheer up, and not mourn his passing, and to have a wee dram to ease their pain. Then, after he died, some of the Scot-Irish tribes in that region of Ireland had a brief battle over St. Patrick's body.
There is an Account in the 'Annals of the Four Masters' of the 'Battle for the Body of St. Patrick' that says the tribes from Armagh and Ulaid met at a river. Then the river swelled against them so that they were not able to cross it in consequence of the greatness of the flood. When the flood had subsided, the tribes were overcome by a strange confusion that caused them to cease their battle and unite on terms of peace. It was strange! Both tribes thought they had actually won the battle, because miraculously it appeared to each of them that each had possession of St. Patrick's body! So both tribes went home happily ever after!
The above is a true historical tale corroborated by the historical documents cited! Go look it up!
Another amusing tale from Ireland
98-year-old Mother Superior from Ireland was dying. The nuns gathered around her bed trying to make her last journey comfortable.
They tried giving her some warm milk to drink; but, she refused it.
One of the nuns took the glass back to the kitchen and remembering a bottle of Irish whiskey received as a gift the previous Christmas, she opened it and poured a generous amount of the whiskey into the warm milk.
Back at Mother Superior's bed, she held the glass to her lips. Mother drank a little, then a little more and before they knew it, she had drunk the whole glass down to the last drop.
"Mother," the nuns asked with earnest, "please give us some wisdom before you die."
She raised herself up in bed and said, "Don't sell that cow!"
What about The Green?
Green may be the national color of Ireland, but the color originally associated with St. Patrick was actually blue. The 'Order of St. Patrick' was established in 1783 as the senior order of chivalry in the Kingdom of Ireland. The color associated with the honor needed to differentiate it from the Order of the Garter (which was dark blue) and the Order of the Thistle (which was green). So they went with sky blue.
However, St. Patrick used a three-leafed shamrock to explain the Holy Trinity to the then-pagan Irish people. This has forever linked the shamrock with St. Patrick and the Irish in the popular imagination. He tied shamrocks to his robes. They say this is why we wear green today. The shamrock was also important in Celtic mythology because of its three leaves. Three was a sacred number to the Celts as well as the Christians.
More amusing Irish humor...
An Irishman named Paddy & a Scotsman named Angus are working on a building site. Paddy says to Angus, "Im gonna get the day off, I'm gonna pretend I'm crazy! And the Foreman will let me go home." So, Paddy climbs up into the rafters , hangs upside down & shouts "I'M A LIGHTBULB! I'M A LIGHTBULB!" Angus watches in amazement! The Foreman shouts "Paddy you're acting crazy! Go home." So, Paddy leaves the site and gets his day off.
Next, Angus starts packing his tools up and starts to go home as well.
"Where the hell are you going?" asks the Foreman. Angus replies, "What? How do you expect me to work in the dark?"
St. Patrick's Day in the USA
The very first St. Patrick's Day parade was held in the United States. The Irish have been celebrating the feast of St. Patrick since the ninth century, but the first recorded parade anywhere was in Boston in 1737. The parade was not Catholic in nature, though, because the majority of Irish immigrants in the colonies were Protestant. Ireland did not have a parade of its own until 1931, in Dublin. Even today, 18 out of the 20 largest St. Patrick's Day parades are in the United States -- New York's St. Patrick's Day Parade is the largest in the world.
Potatoes and Irishmen
Paddy goes into a department store and asks the shopkeeper, "Excuse me sir, but do you sell potato clocks?"
The shopkeeper looks at him and says, "What did you say? We sell cuckoo clocks, carriage clocks, grandfather clocks, alarm clocks... what in the world is a potato clock?"
And Paddy says, "I don't know, but I start my new job at nine tomorrow, and the wife said 'You'd better get a potato clock.'"
The Irish have a love of tradition!
Q. Why does it take five Irishmen to change a light bulb?
A. One to change the bulb. Four to remark about how grand the old bulb was.
An Irishman is sitting at the end of a bar.
He sees a lamp at the end of the table.
He walks down to it and rubs it.
Out pops a genie. It says, "I will give you three wishes."
The man thinks awhile. Finally he says, "I want a beer that never is empty."
With that, the genie makes a poof sound and on the bar is a bottle of beer.
The Irishman starts drinking it and right before it is gone, it starts to refill.
The genie asks 'Well now you have two more wishes to go. What would you like for your next two wishes?'
The Irishman says, "I want two more of these."
---
33nd Annual Robert Burns Celebration
Grand Sierra Resort and Casino, Reno, Nevada
A Sold Out event!
Thanks! See you again next year!
---
People are always asking us,
"Why do they call it contra dancing?"
Is it because it's contrary or country? It may be both! Around 1690, English country dances made their way over to France, where they combined dance steps from both French and English dances. The French called these dances "contredanse," because the men and women started each dance in long paired lines of couples facing each other, as in being contrary.
Today, like back then, contra dancing is done to live music and a caller calls out the moves. Over the course of any particular contra dance, individuals change partners and interact with everyone else in the dance lineup, with everybody traversing patterns. So, contra dancing is a group activity. The music consists of old time tunes that find their roots in Celtic (and therefore Old Time Americana) traditions, including reels, jigs and polkas.
Contra dancing was once popular all over the Western world, especially in New England, Ohio and the Maritime provinces of Canada. Why Ohio? That's where the Western Reserve was established to give land to the veterans of the Revolutionary War. So, America's first vets brought their favorite dancing with them.
Contra dances were quite fashionable in the United States until the 1850s, when they got competition from square dances and couples dances, such as waltzes and couples polkas. By the 1930s and '40s, contra dancing was done just in small towns in New England, Maritime Canada and yes still in Ohio, where couples dancing and especially the polka flourished as well.
The popularity of contra dancing experienced a resurgence in the 1950s and '60s with the folk music revival, and contra dance workshops and music camps sprang up. Then, during the '70's some of the callers began adding new movements, such as "heys" and "gypsies." Becket formation was also introduced, with partners starting out next to each other instead of opposite. Today, the urban farming and small farm movement has embraced contra dancing, with more contra dances springing up again at community centers and grange halls.
To find out more, you'll just have to go experience the fun of contra dancing for yourself!
---
Ramblin' Irishman is on Kindle!
Good news for musicians using Kindle! Jim from Wyoming reports he has enjoyed getting our music book for a fraction of the hardcopy price, "I have been a Kindle user since it first came out, and your music book Ramblin' Irishman was one of the first I bought from the Kindle Store. I play the piano, and when Kindle Dx large version came out, I bought one so I could download music scores. This works fine for looking at a score away from the piano, such as when traveling, although it's not a substitute for printed music at the piano. I have also tried the Kindle Reader on my iPad, and that is much better on the piano!" -- Jim

Find out more...
---
Rob McArtor sent some interesting comments after our last newsletter re: Celtic Connections, Old Time Cowboys and Beekeeping
"If John Harbison brought bees by ship to the west coast from Pennsylvania in 1850, he did not come through the Panama Canal. That wasn't completed until 1914! I suspect his shipboard travels took him around Cape Horn, after passing by Tierra del Fuego, or possibly through the Strait of Magellan, just north of Tierra del Fuego." -- Rob McArtor
We had to apologize for calling it the Panama Canal, because before the Canal there was a steamer route, a railroad and a trail before that. However, upon further investigation, we stumbled upon an account on the San Diego History website, stating, "Harbison wrote in his book, The The Beekeeper's Directory, that between October 1st, 1858, and April 1st, 1859, one thousand colonies of bees were shipped to California from the East Coast via the Isthmus of Panama.
For anybody interested in how folks got Out West in those days before the turn of the century, you can find interesting reading here:
Gold Rush includes a letter from a German woman who went "through the Panama Canal" before it was a canal. She tells about taking a train over a scary trestle, and she mentions that before the train there was a trail that she was glad not to have to take. One thing she liked doing on her trip Out West was dancing a polka to the music of the accordion on a ship between the Isthmus and San Francisco. For more history of The Panama Route see this book.
Meanwhile, the history of how honeybees came Out West has become a plot thicker than honey! We found out that even though John S. Harbison arrived in San Diego with one hundred and ten colonies of bees on in 1869, and then became largest producer of honey in the world, he was not the first to bring bees Out West. Thanks to sandiegohistory.org, we now know that, "Harbison has often been credited with bringing the first honeybees to California (the honeybee, Apis mellifera, is not a native of the Western Hemisphere but was imported by the early colonists from Europe), but this honor belongs to the botanist Christopher A. Shelton, who arrived in San Francisco aboard the steamship "Isthmus" on March 14, 1853, with twelve colonies of bees. He immediately took them to San Jose but only one hive survived. It did well, casting three swarms the first summer. Then, the next record of honeybees being brought Out West was that of William Buck, who brought thirty-six hives from New York via the Panama Route arriving November 30, 1855." Many thanks to Rob McArtor for giving us the incentive to go looking for more information about how beekeeping made its way Out West! For more about this topic, scroll down to view the original story.
Here's some
Music to Enjoy Honey by...
Listen to The Beekeeper's Dance...


An original tune written by Mary Kay.
Click on the accordion

Announcing this year's Successful Honey Harvest
at the Slim and Minnie Bee Ranch
For your culinary delight and pleasure, we're excited to announce two varieties of honey: Spring Wildflower Delight and Summer-Fall Wildflower Magic...
---
While we're on the topic of honey...
Here's some interesting history about
Celtic Connections, Old Time Cowboys and Beekeeping
According to the book Bee by Claire Preston those groovy iron age folks from Northern Scotland, the Picts, were making honey ale between 300 and 600 BC. The home brewing Picts thought the honey was collected by the bees after it was ready-made by the flowers! It wasn't until 1700 that people figured out that bees gather pollen from flowers and then make it into honey in their bee hives.
Even though you might think Scotland would have too cool a climate for beekeeping, Scottish beekeeping thrives! There's even a Scottish Country Dance named after an apiary, that is a "bee ranch." Just ask Marian Stroh, Reno's Queen Bee of Scottish Country Dance.
Scotland even has its own official bee census. The Scots started counting bees in 2010 to determine the effects of bee diseases that have Medieval sounding names like "foulbrood."
"Honeybees (Apis mellifera) are certainly indigenous to the British Isles, including Scotland. However it is likely that the Northern limit of their natural range is reached somewhere in the Northern half of the country, being determined by a subtle blend of factors such as rainfall, temperature and wind exposure. Fera colonies seem able to survive without human intervention certainly as far north as the coastal parts of Sutherland, but not much further. The Scottish Island groups - The Hebrides, Orkney and Shetland - are somewhat exposed and windy, but bees can be kept on all of them successfully, albeit with considerable help from the beekeeper. Queen rearing is rather more difficult in these areas." Thanks to beekeepingjobs.net for this info.
The Flight of Irish Bees
In Early Medieval Ireland, 400-1200 writer Dáibhí O 'Cróinín wrote that honey was utilized as a sweetener in brewing ale and also in butter. Yet, the Annals of Ulster in 993 recorded a "plague of people, animals and bees" across the land.
Irish Bee Laws
Bech Bretha (Bee Judgments) were written into ancient Brehon Law. Ownership of hives was to be clearly determined. There were laws against stealing hives, and even compensation required for those stung by another person's bees. Destruction of bees was a grave offense and a devastating tragedy, kind of like horse thievery.
The ancient monks were beekeepers, as were many common folks. Tracking a swarm of bees was one of the few activities the church allowed on Sundays!
How the Irish Got Their Honey
St. Patrick may have driven out the snakes, but Mo-Domnóc, a 7th century Irish saint was the guy who brought the first honeybees to Ireland. Old Mo had been beekeeping in a monastery in Wales, and when he returned to his native land, he brought some hitchhikers with him. Mo-Domnóc's bees never returned to their former hives back in the Welsh monastery and they became the forerunners of all Irish bees today.
Some sources say that Mo-Domnóc was actually Welsh, not Irish. In that case, there may be at least one thing the Irish can thank the British for.
Saint Gobnait, a 5th or 6th century nun from County Clare is the Irish saint of beekeepers! Gobnait is Irish for Abigail, but she's also known as Deborah (Honeybee). Thanks to Irishfireside.com for this Irish beekeeping history!
How Did Beekeepers Get Out West?
Not in a wagon train! During the 1850's Gold Rush, a descendant of Irish immigrants (who had come to the US before it was a country way back before 1776) John Harbison, made a killing when he brought beekeeping to the US West Coast from Pennsylvania. He didn't take the land route however, and instead he and his bee hives came Out West on a ship that floated its way through the Panama Canal. This is the same route and the same era when the first accordions came Out West, by the way! Harbison's is avery interesting story.
---
Garry Owen:
More than you probably ever wanted to know!
Since the tune Garry Owen is our top download by Gairin fans in the UK, here goes... This song emerged in the late 18th century, when it was a drinking song of rich young roisterers in Limerick. It obtained immediate popularity in the British Army through the 5th (Royal Irish) Lancers.
The word garryowen is derived from Irish, the proper name Eoghan ("born of the yew tree") and the word for garden garrai, thus "Eoghan's Garden." It refers to the area of Garryowen in the city of Limerick, Ireland.
Even Beethoven Ripped Off Garry Owen!
Beethoven composed two arrangements of the song in 1809 to 1810 (published 1814 to 1816 in W.o.O. 152 and W.o.O. 154) to the title, "From Garyone My Happy Home", with lyrics by T. Toms, on romantic themes. The arrangements were part of a large project by George Thomson to engage prominent composers of his day to write arrangements of the folk songs of Ireland, Scotland, and Wales.
The Lords, Viscounts and Grenadiers Sure Liked It Too. And the French Ran Away!
A very early reference to the tune appears in The Life of the Duke of Wellington by Jocquim Hayward Stocqueler, published in 1853. He describes the defense of the town of Tarifa in late December 1811, during the Peninsular War. General H. Gough, later Field Marshal Hugh Gough, 1st Viscount Gough, commanding officer of the 87th Regiment (at that time known as the Royal Irish Fusiliers), after repulsing an attack by French Grenadiers ". . .was not, however, merely satisfied with resistance. When the enemy, scared, ran from the walls, he drew his sword, made the band strike up 'Garry Owen', and followed the fugitives for two or three hundred yards."
Garryowen was also a favourite in the Crimean War. The tune has also been associated with a number of British military units, and is the authorised regimental march of The Irish Regiment of Canada. It was the regimental march of the Liverpool Irish, British Army. It is the regimental march of the London Irish Rifles (now part of The London Regiment (TA)). It was also the regimental march of the 50th (The Queen's Own) Foot (later The Queen's Own Royal West Kent Regiment) until 1869.
Even Horses Dance to Garryowen!
Garryowen is the Quick March and Canter March of the Welsh Horse Yeomanry, a civilian organisation based in South West Wales, who perform Cavalry and Living History Displays, including the Welsh Horse Musical Ride, in which the tune Garryowen features prominently.
Garryowen became the marching tune for the 69th Infantry Regiment, New York Militia, (the famed "Fighting 69th" ) in the mid-19th century. The "Fighting 69th" adopted Garryowen before the Civil War and recently brought it back to combat in Operation Iraqi Freedom.
It later became the marching tune for the American 7th Cavalry Regiment during the late 19th century. Most folks already know that the tune was a favorite of General George Armstrong Custer and became the official air of the regiment in 1867. According to legend it was the last tune played before the Battle of the Little Bighorn.
The name of the tune has become a part of the regiment, the words Garry Owen are part of the regimental crest. There is a Camp Garry Owen, north of Seoul, Korea, which houses part of the 4th Squadron of the regiment. There is also a currently operating Forward Operating Base, FOB Garryowen, within the Maysan province of Iraq. FOB Garryowen was established in support of Operation Iraqi Freedom 8 to 10 in June 2008 by 2nd Battalion, 7th Cavalry Regiment. The 7th Cavalry became a part of the 1st Cavalry Division in 1921, and "Garryowen" became the official tune of the division in 1981. The tune became the name for bases established by the Cavalry in current conflicts. The most recent was Combat Operating Base, (COB), Garry Owen in the Maysan Province of Iraq. The base was near the city of Al Amarra and was established by the 2/7 CAV.
---
Garryown is Our Top Track!
Here are the Top 10
Since our digital downloader Routenote just released our Top 10 Tracks downloaded online, we want to send Huge Thanks to all who download and enjoy our music! It's an honor that Our Gairin Garry Owen took the #1 spot; and, especially that it's in the UK! Here's what else everybody likes best, too.
Our Top 10 Tracks
1. Garry Owen
---
2. Golden Slippers
---
3. Twas In The Moon of Wintertime
---
4. Mr Potato Head
---
5. Rakes of Mallow
---
6. Christmas In Killarney and Morrison's Jig
---
7. Oh Susanna Oh California
---
8. It Came Upon a Midnight Clear
---
9. Go Ask The Rain
---
10. Country Waltz
---
Thanks to all who came out to the June contra dance! We joined up with Kenny Davis and Leslie Mink on piano and fiddle, and called ourselves Fish Tacos Beans and Rice, and a good time was had by all!
And as always, a Big Thanks to all who came out for St. P's Day...

Know Your Irish Music on St. Patrick's Day
by Mary Kay Aufrance of Gairin Music
With St. Patrick's Day fast approaching, it's time to brush up on your knowledge of Irish music! Here's a lighthearted approach to Irish Musicology from the Carson City Irish American Music Duo of Gairin Music.
Jig
Everybody knows that a "jig" is a lively dance that originated in Ireland, and most folks associate the "jig" with cute mop headed girls bouncing up and down in their colorful costumes. As the girls seem to defy gravity with their legs bounding and arms straight at their sides, they dance in something called "triple time," which is sort of like a waltz gone wild! This is a style of dancing that originated among ordinary people, not the royal courts, since the royals were too busy being stately to have such fun leaping and bounding. And, when the dance is done, "the jig is up."
Reel
Without knowing it, many St. Patrick's Day revelers define this dance as they "stagger, lurch, or sway, as if from drunkenness" and hopefully allow their designated driver to do the driving instead of the reeling! This is one dance that was named for the way observers thought it actually looked. In Middle English, the meaning of the word was "to whirl about." How can you tell a jig from a reel? If you tap your foot to the music, you will notice that you are tapping in groups of 4 at at time. Reel has 4 letters in it. So that's how to remember a reel had groups of 4 foot taps and a jig has groups of 3. Confused yet? The Irish Gaelic word for that is "bunoscionn."
Hornpipe
All sailors on wooden ships became expert hornpipe dancers, because they were actually required to participate in dancing as their only form of exercise during long sea voyages. Many a sailor would rather dance the hornpipe rather than walk the plank, which was their only alternative according to seaman lore! So, the hornpipe originated as a men's dance, and each man did his best improvisation of a sailor trying to stay afoot while the ship was rolling and lurching in the waves. Also, the instrument used to play a hornpipe was exactly that: a pipe made out of an animal horn. The Irish weren't the only people to play the hornpipe, and the hornpipe instrument was popular among Welsh, Basque, Scottish, Russian and other folks, too.
Pub Songs
Everybody knows that a pub song is what you sing along to when you're in the bar and the Celtic band plays on St. Patrick's Day! However, to be truly knowledgeable of St. Patrick's Day musicology, one must know that a "pub" (not to be confused with "public housing") originated as a small local drinking establishment fundamental to the culture of Britain, Ireland, Australia and New Zealand. Especially in small villages, a pub was the focal point of the community, and one expert writing for Wikipedia asserts that there are approximately 53,500 public houses in the United Kingdom alone! The pub owner is known as the "landlord" and the patrons who enjoy each other's company and spirits there are the "regulars." And, that's no blarney!
St. Patrick's Day in the United States
Although not a legal holiday anywhere in the United States, St. Patrick's Day is celebrated everywhere on March 17th. It's become a celebration of Irish and Irish American culture, including prominent displays, "wearing of the green," feasting and consumption of alcohol (especially green beer), religious observances, and parades. The holiday has been celebrated all over North America since before the American Revolution. Of course it honors St. Patrick, the Patron Saint of Ireland, whose contributions were great and included overcoming his own slavery at the hands of "Niall of the Nine Hostages," introducing Catholicism to Ireland, the use of the Shamrock to explain theology, and some say he even ran the snakes out of Ireland.
About the author: Mary Kay Aufrance is a singer songwriter whose music is licensed through BMI. She performs Irish music with her husband Tom as Gairin Celtic Music. The two have 4 CDs and a book of Irish Music to their credit, available on Amazon, iTunes and other websites. Tom and Mary Kay have been singing and playing Irish music for decades, after outcasting themselves from their usual Renaissance festival circuit when Mary Kay took up the accordion (which was not invented until hundreds of years after the Renaissance). Now, they perform in local establishments, at county fairs and for traditional Celtic and American Folk Music societies.
---

Gáirín means "a little bit o' laughter, like a chuckle." So, is it any wonder that Laughology
has licensed our music for
their DVD project?
Laughology - The DVD, UK (Great Britain)
It may be more than coincidental that our Celtic stage name Gáirín means "a little bit o' laughter, like a chuckle" for this commercial client! We checked out their DVD The Meaning of Laugh. It's the world's first feature length documentary to address the topic of laughter! Watching the DVD, we learned a lot about how important it is to laugh! We always thought so and now you can find out why...
'Plato hated it, the Bible discouraged it and psychologists once thought it would drive you insane. When Albert realises he's forgotten how to laugh, he embarks upon a global investigation into this mysterious physical phenomenon, spanning neuroscientists, holy laughter groups and the man with the most contagious laugh in the world. "Haahaahaahaa", pants prehistoric man, excitedly clubbing another man over the head. He's having fun, the man is his friend, and this is the elemental sound of laughter. A couple of million years later, we find Albert sitting in his dressing gown in a grey city apartment. It's a picture of stress and exhaustion broken only by the giggle of his baby daughter. "Who taught this baby to laugh?"
Other recent licensing clients include:
Canamedia, UK (Great Britain) - Canamedia Productions Ltd was founded in 1978 by producer/director Les Harris and executive producer Jane Harris. It is one of the longest established distribution and production companies in Canada. Canamedia Film Productions Inc was incorporated in 1997.
The Peace Project, UK (Great Britain)
Licensing is through Getty Black Box, Washington USA and Getty online.
---
Thanks Again to Our Sponsors!
Our CD sponsorship auctions were a success! We are adding custom photos and credits to our new CD Cowboy Boots and Golden Slippers for our sponsors, to be released this week!

~ Suzie Orr Giguere of Canada ~
Sponsored Tune: Saddle The Pony
for horsewoman friend Peggy

"Peggy Lallement and her horse Splash can be found enjoying the trails of either California's South Lake Tahoe area or Nevada's Carson Valley. Peg has owned and ridden horses for most of her life and believes that the awesome view of the Sierra Nevada outside her windows is incomplete without a horse in it."
---
Carson Now printed an article about our
Sponsor-A-Tune auctions...
---
Gairin Celtic Music was tagged at
Fire on the Mountain Beltane Festival
Virginia City, NV

Gairin with Willie Puchert, President of the Sons and Daughters of Erin
Visiting with Willie at the SADOE tent at the festival today on C Street!
---
Thanks to all who came out to our big Down Home Christmas show!
Merry Christmas and Happy New Year!
---
Three Celtic funnies we're passing along
to you. These arrived from our dear friend
Pat Puchert...
Funny #1

"At an Irish wedding, the priest shouted out, "Now All Men, go stand next to the one in life who has made your life worth living! -- The bartender was nearly crushed by the crowd!"
---
With friend and Reno Celtic organizer Willie Puchert,
President of the Sons and Daughters of Erin.
---
---
Irish Traditions & History
"Erin go Bragh"
Here's a wee bit o' interesting Irish history for ya! Erin go Bragh is an anglicisation of the Irish phrase Eirinn go Brach, in which Eirinn refers to Eire or Ireland. We're sure you knew that already! But, did you also know that that the English version was probably taken out of context, from the Irish Go bhfanad in Eirinn go brach ("May I stay in Ireland for ever") or Go bhfillead go Eirinn go brach ("May go back to Ireland for ever"). So, there you have your healtfelt expression of the Ireland Forever State of Mind.
---
Country Waltz
Can't see or hear it? Click here...
I just finished recording Country Waltz for our students at an upcoming workshop. They are going to love this traditional tune, and I hope you like it too!
Provided to YouTube by Routenote Country Waltz Tom and Mary Kay Aufrance from their album Cowboy Boots and Golden Slippers (c) Tom and Mary Kay Aufrance, Carson City, Nevada USA...
The video was uploaded on 3/26/2020. The video lasts for 3 minutes and 42 seconds.
This waltz is very common in the Appalachian tradition, but nobody lists any author or credits! You can find it in the The Fiddler's Fakebook where there's nary a credit neither! Strange, eh? By the way if you're looking for another great place to find the music and history of tunes and songs in the Scottish Irish and Appalachian tradition, check out TheSession.org
---
Even though some of the reviewers on Amazon didn't like this book all that much, mainly because they said it was too America centric, you'll have to decide for yourself. We have read it and recommend this book!
We agree with Chris Niccolls on Amazon who said, "Cahill's book was a top seller when it came out around 15 years ago. It's a great story that explains how Ireland's political, geographical, and religious tradition of isolation allowed it to preserve the great academic works of Roman culture. This knowledge, locked away in remote Abbey's and Monasteries, helped to kick start civilization when Ireland rejoined the world at the turn of the millennium. Something that benefited all European civilizations. This is a great story that is beautifully told."
Did the Irish save civilization? Decide for yourself! Find the book on Amazon: How the Irish Saved Civilization (Hinges of History)
---
Happy Holidays from Tom and Mary Kay Music!
We hope you enjoy our newest song & video
"I Can See Christmas"
---
Free Music Scores and Downloads
---
Mary Kays Polka
Can't see or hear it? Click here...
Enjoy playing music written by Mary Kay. For the sheet music, you can view and download the sheet music for Mary Kays Polka. (You need Adobe Acrobat to view the sheet music.)
Provided to YouTube by Routenote Mary Kays Polka Tom and Mary Kay Aufrance from the album Cowboy Boots and Golden Slippers (c) Tom and Mary Kay Aufrance, Carson City, Nevada USA...
The video was uploaded on 3/25/2020. The video lasts for 1 minutes and 23 seconds.
This fun polka got a super great review by the New York polka players group, who called it delightful and full of surprises for enjoyable playing.
---
Blue Little Girl
Blue Little Girl
---
Waltz for the Johnsons
Can't see or hear it? Click here...
Mary Kay wrote this lovely waltz for the Johnson family of Carson City - Seven wonderful people we love and who enjoy music with us at Borders. For the sheet music, you can view and download the sheet music for Waltz for the Johnsons. (You need Adobe Acrobat to view the sheet music.)
Provided to YouTube by Routenote Waltz for the Johnsons Tom and Mary Kay Aufrance from the album Cowboy Boots and Golden Slippers (c) Tom and Mary Kay Aufrance, Carson City, Nevada USA...
The video was uploaded on 3/26/2020. The video lasts for 2 minutes and 36 seconds.
Charissa drew us while Robin danced a jig at the Carson Rendezvous. We cherish this gift of artwork, our friends and all the fun memories!
---
Were you at Red's 395 for our St. Patrick's Day Show?
Can't see or hear it? Click here...
---
Morrison's Jig at the Brewery Arts Center Carson City NV USA
Can't see or hear it? Click here...
Enjoy this footage of us playing Morrison's Irish Jig with Silver Strings of Carson Symphony in the Brewery Arts Center, Carson City, Nevada USA. This performance was part of our annual Winter Welcome concert featuring traditional music inspired by Celtic lands and American historic carols of the season.