Tom & Mary Kay's adventures in music...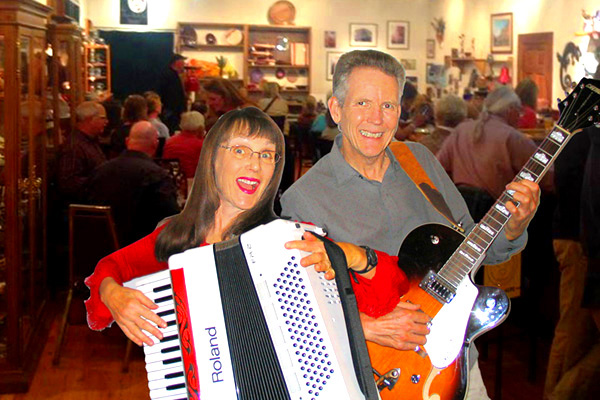 Welcome to our music website! It's a celebration of our longtime passion for singing, songwriting and musicianship on accordion, guitar, and mandolins! Here you can enjoy a video, find music downloads, get our lyrics and sheet music.
---
Ramblin' Irishman is on Kindle FREE!
That's good news for musicians using Kindle! Better yet, it's FREE with Kindle Unlimited!
Jim from Wyoming reports he has enjoyed getting our music book for a fraction of the hardcopy price, "I have been a Kindle user since it first came out, and your music book Ramblin' Irishman was one of the first I bought from the Kindle Store. I play the piano, and when Kindle Dx large version came out, I bought one so I could download music scores. This works fine for looking at a score away from the piano, such as when traveling, although it's not a substitute for printed music at the piano. I have also tried the Kindle Reader on my iPad, and that is much better on the piano!" -- Jim

Find out more on Amazon...
---
Sheet Music for Our Songs Plus More Special Choral Arrangements
Stasera Dorme Il Leone The Lion Sleeps Tonight
(Our Disney licensed choral arr.)
The Mountain Sea: The Lake Tahoe Song
---
At the Bookstore Seattle's Best Coffee Shop
---
Playing for the Urban Farm Fest Contra Dance
---
"Your St. Patrick's Day Show at Red's 395 is great! I go every year!" -- Tony A.
---
Wether it's recreating the fun of being in an Irish pub - leading familiar singalongs - or on the festival trail, we can bring the many facets of Celtic music to your audience. The name Gáirín comes from the Gaelic words for a little bit o' laughter, like a chuckle!
---
As Slim and Minnie, we have brought beautiful harmonies and homespun humor to the stage. This show is an eclectic mix of acoustic music of favorite cowboy and Americana songs, popular and folk music covers and dance tunes and originals. Folks of all musical preferences and all ages find themselves joyfully transported into a timeless musical groove whenever Slim and Minnie perform!
---
"Such a beautiful song sung by an equally beautiful voice!" -- Espie Estrella, About.com
---